Food For Health, Wisconsin's First Medically Tailored Meal Provider Hosts Launch Event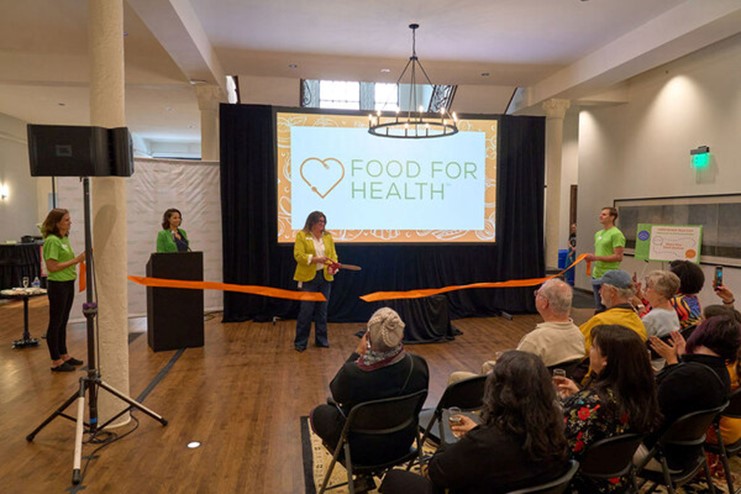 Independent 501c3 Public Charity Unveils HQ, Food Production Facility,
Celebrates Campaign to Improve Health for 50,000 Lives
MILWAUKEE, May 18, 2023 /PRNewswire/ -- This week nearly 200 community leaders, members, and partners attended Food For Health's (FFH) launch event as an independent 501c3 at the organization's new HQ campus located in the Halyard Park Neighborhood. FFH President and CEO Kathy Koshgarian announced a five-year campaign to improve the health of 50,000 lives focusing on Wisconsin's underserved communities. "As Americans, we're spending trillions on health care -- but people are getting sicker -- largely due to preventable diet-related diseases. Here in Wisconsin, up to one-third of our residents have diabetes and spend twice as much on healthcare as a person without," said Koshgarian. "Our FFH medically tailored meal (MTM) program reduces healthcare consumption and costs while managing and reversing diet-related diseases such as Type 2 diabetes, hypertension, obesity, and cardiovascular disease. While food is clearly the problem, it is also the solution. The time to act is now and as we like to say, it's time for a food fight!"
Food For Health CEO and President Kathy Koshgarian, cuts the ribbon, kicking off the FFH Campaign to improve the health of 50,000 lives through the power of food.
Koshgarian said the Food For Health program provides low-income individuals living with a diet-related disease access to medically tailored meals, and well-being services along with a dedicated health coach to provide support and a customized app that provides access to education and goal tracking. "It's a comprehensive program that wraps around the individual that otherwise wouldn't have access, and it gets results.
Koshgarian adds that FFH is part of a burgeoning national movement. "While we built Wisconsin's first and only validated integrated MTM program, we have also learned from and joined forces with other MTM providers across the nation through the Food Is Medicine Coalition (FIMC). This is an effort requiring partnerships," said Koshgarian. "To bring our program to those in need we partner with healthcare providers, insurers, payers, FQHCs, other community-based organizations, and employers. The need is great, and we are reliant on the generous donations from our philanthropic community and partners."
At the event, guests experienced delicious, healthy food straight from the FFH program menus, mocktails were served, cooking, coaching, and biometric screenings demos were held, and testimonials from partners and participants were shared. "We treated our guests to a food and well-being immersion experience because we wanted to provide a "true taste" of the food we provide, express the completeness of our programs, and unveil our headquarters and food production facility," said Koshgarian. "We ask that you join us in the movement. Together we share responsibility for positively and sustainably changing the lives of 50,000 of our Wisconsin friends, colleagues, family members, and community members that are in need over the next five years. Please visit our resource center at Foodforhealth.org for more information on how you can provide support, get involved, and join us in this all-important food fight!"