Our Program
We are different. A good different.
Partnering with Payers, Providers, Community Partners, and Philanthropic Donors to serving those with or at risk for type 2 diabetes, hypertension, obesity, high-risk pregnancy, and cardiovascular disease in Southeast Wisconsin.
Program Overview
Our unique program is a validated and fully integrated medically tailored meal program that places the participant at the center of our focus. We pride ourselves on meeting our participants, partnering providers, payers and agencies where they are at by configuring our programming based on the individual need.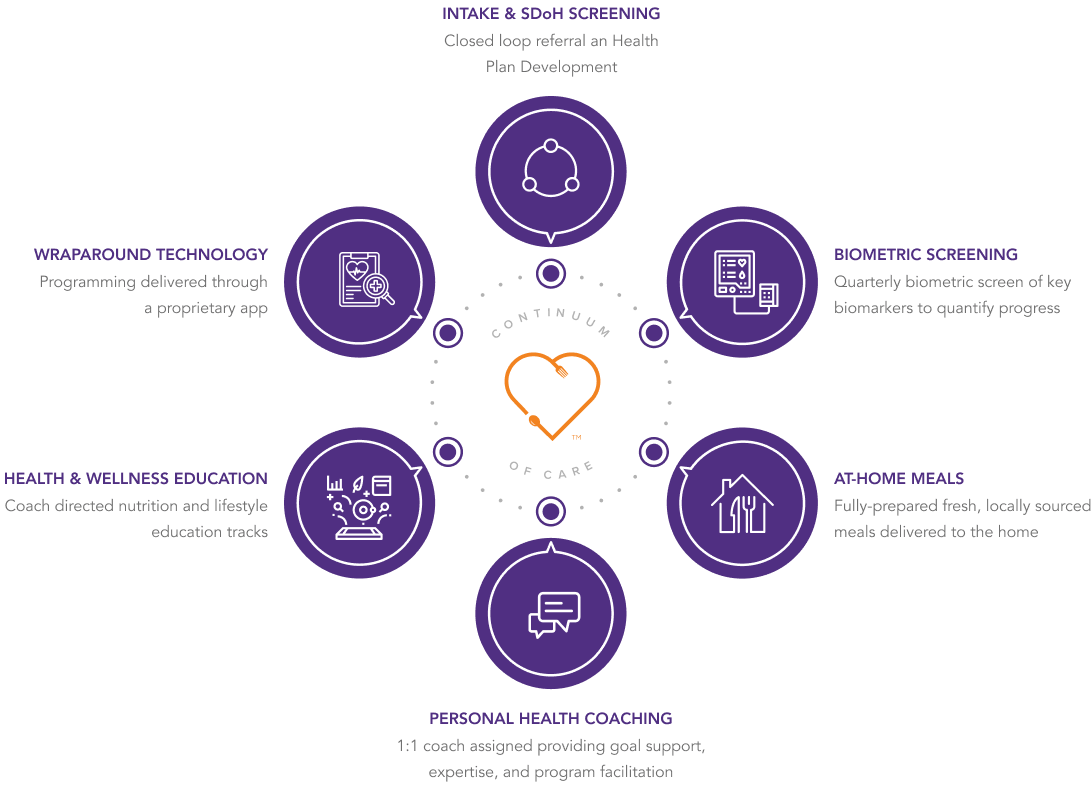 Program Offerings
We have a flexible model that serves providers, payers, partners, and individuals.
Care Management
Plan Benefit
Self Referral (coming '23)
Description
Immersive MTM program to prevent & manage disease in complex populations
Episodic nutrition support to avoid cost & improve outcomes tied to qualifying events
Personal pathway into care management program through philanthropic partners
Scope

At-home MTM
Coaching
Biometrics
Education
Technology

At-home MTM
Intake
Screening
Community Pathways at Exit

At-home MTM
Coaching
Biometrics
Education
Technology
Screening & Pathways

Timing
6-month cohorts with renewal options
2-12 weeks based on qualifying events
6-month cohorts with renewal options
Channels

Payers
Providers
Community Partners

Community Partners
Philanthropic Partners
How it works
Our care management example
A high touch, immersive program enabling a pathway to self-reliance
The Food For Health Care Management program provides participants with 10 fresh, delicious meals, medically tailored to a range of conditions, delivered to the home each week. Participants are assigned a health coach, receive biometrics screenings to baseline their condition and have access to educational content supporting their health journey. Serving local, sourcing local the program is designed as a 6-month immersive experience, enabling a pathway to self-reliance and sustained health.